| | | | | | |
| --- | --- | --- | --- | --- | --- |
| | | | | | |
| Wilma | Marcel | Johan | Peter | Javier | Joost |
The sound of Savannah: versatile and atmospheric!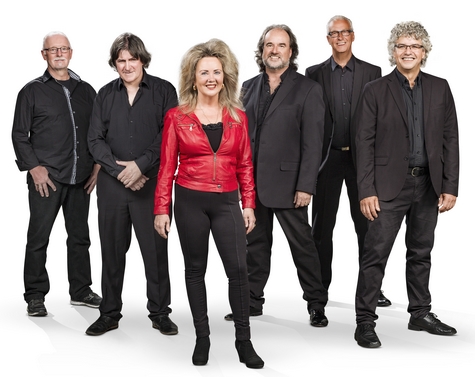 Hagemeier Fotografie
Two chords and the real connoisseur focuses immediately his or her ears ... This is not just a band!
And that's right, this is Savannah, an enthusiastic group of musicians that, since their start in 1986, are at the European Country Music top.
The five band members flawlessly know each other to the touch. You can see that and you can hear that when they play and bring the audience in delight with their infectious and soulful country-music: Savannah's specialty!
The band is very popular with the Country Line Dancers, both in their homeland and abroad and it is a simple fact that Savannah may see herself as the 'most popular Band of the Benelux' in the country genre!
Savannah is a real Audience-band: versatile and atmospheric!
Savannah is at its best during live performances. They show that on large and smaller festivals, in dance halls, at company parties, at street fairs, but also in theaters and playhouses.
Their agenda is well filled with gigs, both in their homeland and abroad.
The band is present at country festivals in France, Belgium, Germany, Switzerland, Austria, Denmark, Finland, Sweden, Norway, Italy, Malta, Spain, England, Scotland, Estonia, Latvia, Lithuania and the Faeröer Islands.
Savannah is also very well appreciated by producers of radio and television programs. The band has already done a large number of performances for radio and TV in their own country and far beyond.
Savannah has a huge 'Legion' of Supporters. 'Chasing' the band, numerous loyal fans travel far beyond our borders to see their performances.
And fortunately for those fans and all other country music lovers, there are also the CD's and DVD, successfully produced by Savannah:
For You 1991 (Peter Hill Band).
Lights in the Night 1993.
Side by Side 1995.
Alle Dromen 1995 (cd-single).
For You 1997 (re-issue with 4 bonus songs).
Love, me 1999 (not available anymore).
Love, me 1999 (cd-single).
New Road - Tribute to the sixties 2001 (not available anymore).
The Best of Savannah 2002 (with six new songs).
Marcel Smulders Sings The Hits Of Don Williams 2004 (Solo-album of Marcel, not available
anymore).
Live at the RaboTheater 2004 (Live DVD, not available anymore).
Joe Brozio & Friends Live 2007 (acoustic live recording).
SAVANNAH 2009 (mixed and mastered in Nashville TN, USA).
Highlights in the career of Savannah are the many 'GRAM Awards' the band received during different editions of the ' Dutch Country Music Poll Gala ', organised by the Dutch Country Music Association (DCMA), Country Gazette and KRO Radio.
The award is a so called 'Audience Award' and Savannah received 'GRAM Awards' in the category 'Album of the year' for the albums 'Side by Side' (1995), 'Love, me' (1999) and 'SAVANNAH' (2009).
Lead-guitarists Peter Hill, Johnny Bernhard and Joe Brozio have several times been chosen as "Instrumentalist of the Year'.
The 'GRAM Award' for 'Group of the Year ' has so far been awarded no less than ten times to Savannah! The number of nominations in the various categories is enormous each year and the band hopes to receive many more audience prizes!
Savannah has worked with big names such as Johnny Cash, Freddy Fender, Wanda Jackson, Allen Frizzell, Bobby Bare, Ed Bruce, Buck Owens, Bellamy Brothers, Nikki Nelson, John Permenter, Dave Dudley and in recent years also with upcoming stars Billy Yates and Buddy Jewell.
The interest for this latter combination grows huge and there's quite a big number of European bookings! With the same ease, they also play together with known Dutch artists such as Dick van Altena, Ben Steneker, Cor Sanne, Sandra Vanreys, George Baker and many others.
And already for ten seasons in a row, Savannah is part of the highly successful theatre production 'Back To The Country', together with Dick van Altena and Cor Sanne.
With this cast they annually pull thousands of visitors to theaters and playhouses in Belgium and Netherlands. And in 2014 the cast also will perform in Germany, Norway and the Faeröer Islands.
The band features a first class sound and light system and travels throughout Europe with wonderful trucks and buses for crew and musicians.
Savannah is without a doubt the best organized band of our country.

IN A NUTSHELL: SAVANNAH ... A GUARANTEE FOR QUALITY!